Today is Endangered Species Day, a time set aside by Congress to honour the biological heritage of the United States. Serendipitously, today is also my friend Atka's Birthday! In this photo he plays with his wolf pup plush toy.
The plush toy did not last long I am sure.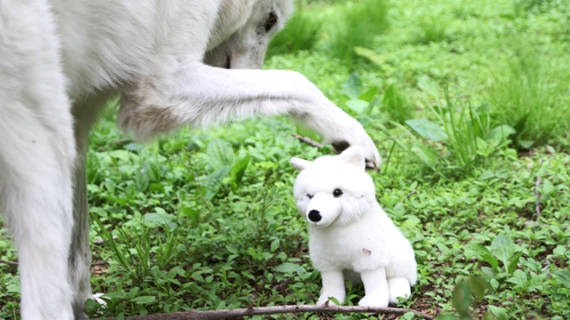 Atka is a special and happy spirit, and has the great staff of the Wolf Conservation Center to care for him and teach the world about wolves. But this year's Endangered Species Day is not so happy for wolves in general.
As noted previously, the USFWS has been playing loose with wolf recovery since the early 2000s. Using a combination of gerrymandered maps and ecologically unsound recovery goals, the service has bowed to conservative pressures in promoting ethically and scientifically unsound plans for wolf management. It did not help that in 2011 the US Congress removed wolves in the northern Rockies from the endangered species list via a rider to the Defense Authorization Act. President Obama shamefully refused to veto the bill.
Throughout this time the Center for Biological Diversity, Defenders of Wildlife, the Humane Society of the United States, and Friends of Animals and Their Environment have been fighting a rear-guard legal battle to try and stem the delisting of wolves. Yet having failed to articulate the ethical reasons for wolf recovery, they were outflanked by the wildlife agencies and politicians.
Now a leaked draft of a USFWS proposal to delist Grey wolves (Canis lupus) throughout the lower 48 states was recently leaked to the LA Times.
According to this and other news reports from the International Wolf Center and Earth Island Journal, the USFWS plans to remove all protections for grey wolves except those in the languishing Mexican Wolf Recovery Program in the Southwest, as the service is finally accepting the Mexican wolf (Canis lupus baileyi) as a distinct subspecies. Red wolves (Canis rufus) continue to be listed as endangered and sequestered in the Alligator River National Wildlife Refuge.
What then about grey wolves in the northeast? Well, the service is now claiming that grey wolves were never in the Northeast. The wolf that was here is the Canadian wolf (Canis lycaon) and that "more study" is needed before wolf recovery in the East is attempted.
Whether the Canadian wolf is a separate species or a hybrid of grey wolves and coyotes is still being debated. However, by declaring the grey wolf never inhabited the Northeast, the politicians in and outside the service give themselves more time to delay wolf recovery across the US. While it may be prudent to study the Canadian wolf more carefully, this is a political maneuver using the veneer of science. One wonders what the excuse would have been if the Canadian wolf had not happened along.
Image: Wolf Conservation Center.